AN INTERVIEW WITH SARAH EYRE
True love never dies and we, at Beyond Photography, can't help but remain to be obsessed with the beautiful art form that is Collage. A month has passed since 'An Ode to Collage', a week dedicated to some of the best artists collage has to offer. Well, Collage is back again with the incredible work by the amazing Sarah Eyre, collage artist and wig enthusiast from Manchester, United Kingdom. Her work explores narratives surrounding the body, gender and identity. We sat down with her and discussed Art Creation in the 21st century.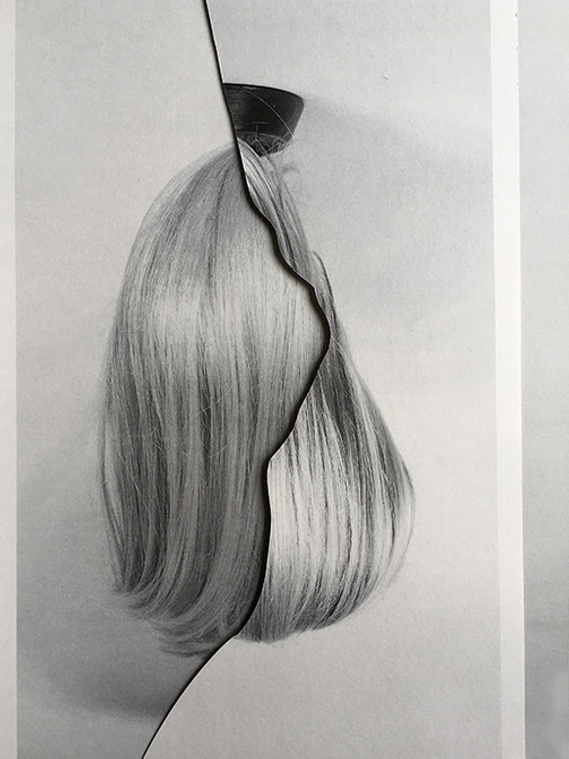 "Your work is truly fascinating. What themes does your work touch upon?"

I use photography and collage techniques to introduce subtle interventions my own photographic work and on found images in order to subvert conventional object/body relationships. I have an abiding fascination for the uncanny and the surreal in everyday objects and this informs my collages. My work explores the relationship between hair and wigs and their relationship to gender, identity and the female body in a playful way.
I am currently concerned with an exploration of the connections between hair and wigs and their relationship to the body. I think they are particularly unique and fascinating objects because they don't quite fit in to usual object categories. They play a very particular social and performative function, which is to affirm, exaggerate or disguise some aspect of the wearer's identity, or project a new one. They are part object, part body, and can reveal anxieties around the boundaries between the self and the outside world. Also, the knowledge that they are often made from real human hair raises anxieties around 'contamination', that threaten the otherwise clearly defined social and physical boundaries we create around our bodies.
My themes are quite theoretical however, I do approach my work with a playful and experimental attitude.
"I would love to hear about your process."
I manipulate and photograph women's wigs in order to draw attention to their strangeness. I mostly take my own 'still life' images and then make collages from laser prints of my work. I like the cheap, punky aesthetic of laser prints. I cut into the photographs and these cuts are often based on the shape of the human form - sometimes faces, sometimes bodies. I layer the images leaving holes and gaps. Holes connect inside and outside, and can suggest a sense of incompleteness, and this links back to my interest in wigs, and their transformative power to slightly 'undo' the seamlessness of the body. I photograph the collages to flatten them back down (they only exist as collages temporarily).
I have another ongoing body of work (as yet untitled) which is more traditionally collage-based (in the sense that I cut out and glue bits of paper), I use found images, mostly taken from fashion magazines. Instead of cutting out subjects in each picture, I've been more interested in using the negative space in between the models' bodies – cutting around and utilising the 'empty' bit of the picture. These spaces a part body and part hole, and for me they represent a sense of movement (as much as a collage can represent movement). They are quite similar and when they are all laid out they look a bit like animation cells or frames. In fact I have made animated collages and turned them into GIFs, this is something I'd like to do more of.
"What do you want your audience to think about when they see your photographs of wigs?"
I'm layering suggestions of the body within the head collages. I guess I do this because I want people to think about what a wig is, the way that wearing one transforms the body a little bit, and also maybe a way of summoning up the kinds of women that the wigs / heads connote. My images all have female names, these are the names given to the wigs by the manufacturers - another way of connoting a particular type or stereotype of women. A bit like the fashion images I use too - all these different representations of women - through wigs, names and glossy magazine images are a bit half formed - they are just facades and surfaces.
"All the themes you touch upon are only enhanced through your collaging and layering of images on top of each other. Do you consider yourself to be a photographer?"

Yes I guess I do consider myself to be a photographer. I take most of the images I use for my collages although I have made more traditional collages from found materials, and I sometimes combine both. If I define myself as a photographer then I feel as if the work I'm making pushes a little at photographic conventions (I did a photography degree and I teach photography so I do feel steeped in photographic tradition). If I didn't have that photographic framework then I would have nothing to push against.
"Pushing against photography as a medium is a great way to challenge art creation. Who/what inspires you?"
I'm inspired by loads of things - I'm a huge consumer of imagery through magazines, films, books, exhibitions! I've already mentioned surrealism - I'm particularly inspired by female surrealists like Claude Cahun, Aileen Agar, Hannah Hoch (not really a surrealist I know), and Meret Oppenheim - mostly for their ability to make the everyday strange and radical. I'm very inspired by sculpture particularly Louise Bourgeois and Sarah Lucas. Artists who use collage and photography in interesting and boundary pushing ways that inspire me include Linder Sterling, Ellen Gallagher, Lorna Simpson, Wangechi Mutu, and not forgetting John Stezaker! Some of my work critiques fashion photography - however, I am actually quite inspired by a lot of it - there are loads of young photographers changing the way the fashion body is represented - photographers like Viviane Sassen, Jamie Hawksworth, Maise Cousins, Prue Stent - there are tons.
"Thank you."