An Interview with Stuart Sandford
Stuart Sandford is a Sheffied born interdisciplinary artist now living in LA. Exhibiting work around the world in previewing in many publications, Sandford is inspired by depicting modern ideals of beauty through traditional sculpture practice.
"Introduce yourself."

My name is Stuart Sandford, I'm an interdisciplinary artist originally from Sheffield, England, but I've been living and working in the US for the last 10 years.
My practice really stems from my first boyfriend who thought I should study an art degree and I ended up taking his, really very good, advice so a big thank you to him for that.
I've always had some creative outlet though, I drew a lot as a kid and I write too, always have. I wanted to be an actor when I was younger but realised I much preferred being behind the camera.
"We started out in Leeds so it's great to see successful artists coming out of Yorkshire. You are an artist of many talents, tell us about your practice as a whole."
I studied Fine Art so I didn't focus on a particular discipline, although I did predominantly work with photography whilst studying. I chose to do a Fine Art degree rather than focusing on photography because I wanted to be surrounded by people who were more interested in the exploration of ideas rather than focusing on a single medium and the technical aspects that go with that.
"That makes sense, traditional photography has so much to offer but in education, can feel very limited."
I work across multiple disciplines because, for me, it's the idea and the concept that's paramount and then I select the discipline that I think best relates that idea.
"Talk to us about your ouroboros series, what is the process?"
The Ouroboros sculpture was originally a commission but I expanded it into something bigger. It begins with the model and the 3D scan and for this work I had originally intended to use a single model but at the last minute he dropped out so, working with a specialist in 3D scanning and modelling, we actually composited together three different models.
I see 3D scanning as the next logical step in photography; if you consider analogue photography as 1.0, digital photography as 2.0, and 3D scanning as 3.0, and instead of having a 2D flat image that you can manipulate, you have a 3D model you can manipulate. Once I have that model, as in photography, I'll choose how I want to execute the work. In this instance I've cast it in various sizes and materials like bronze or stainless steel using traditional lost- wax casting which is a method of casing that hasn't really changed in six thousand years.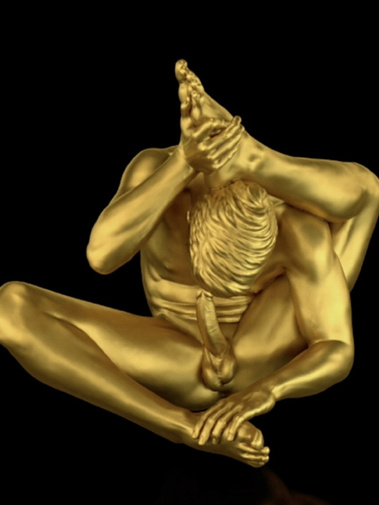 "That's a brilliant way to describe photography's transition into 3d. Your Ouroboros series is created digitally, but then executed as a sculpture, and your photography is heavily shot on film. Can you tell us about being an artist that uses both digital and more traditional methods?"
The sculptures can take many months and sometimes years to come together and so, especially in the case of Polaroid film, I like to be able to produce a work instantly, something tangible that I can in front of me right now. Also, in an ongoing series I started last year, I began to psychically cut the Polaroids and reassemble them and I see this almost as a form of "immediate sculpture". I also love that once that cut is executed then there's no going back.
"Your work is very explicit, are you trying to shock?"

Absolutely not. And I really don't see my work as particularly explicit, other than the Ouroboros there are't really any sexual acts that I depict within my practice. Yes there's the nude body, there's intimacy, there's sexuality and the occasional erect penis, but it's not there to shock you, it's there to celebrate the body and the beauty it has.
"How does social media restrict the art making process when the platform is so censored?"
It certainly can have an effect on the work some people choose to make, but then again mainstream culture always has declared what's acceptable and what's not and it's the role of the artist to challenge that. Of course I do make decisions on what and what not to post of my work on social media but it doesn't alter or restrict the actual work I choose to make, I'll simply eschew social media and share it elsewhere.